This Cooling Pad is a revolutionary new self-cooling pet mat that works without refrigeration, water, or electricity. It cools your dog as soon as they lay on the pad.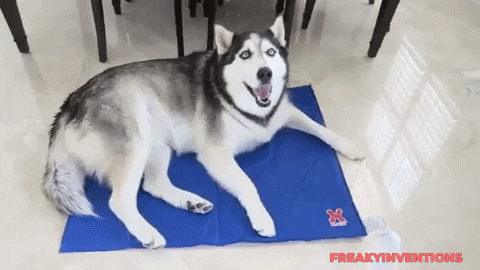 Every area that their body comes into contact with will be cooled because the pad absorbs your dog's body heat to cool him or her down. You can get a larger bed for a smaller dog if they move around a lot. It's also incredibly convenient;
It folds easily, wipes clean and has sturdy construction. Place it on the floor, on the bed, in the car, or even outside. Your pet will stay so cool; you may decide to get one for yourself.
THE ORIGINAL SELF-COOLING PET PAD - This pressure activated gel dog pads cool and soothe your dog and cat on contact for up to 3 hours, providing a cool spot for your furry friend. 
HEAVEN FOR YOUR POOCH ON A BALMY DAY - simply lay the perfect pet seat where your four-legged friend likes to relax and let the chill pad go to work immediately. It is sheer bliss and offers relief from heat, muscle and joint pain, making it an ideal treatment for senior animals or for pets with health conditions
DESIGNED FOR MEDIUM TO LARGE SIZED DOGS - measures 50 x 90 cm, for dogs weighing between 35 – 65 lbs. It's super easy to care for, simply clean by hand with a damp cloth. Do not leave in direct sunlight or heat as this will affect the performance of the Cool Pet Pad
MULTI-USE AND PORTABLE

 

- why not lay the cooling dog mat on the floor, sofa, car seat, crate, kennel, bed or outdoors in the shade to help them feel cooler. The mat is lightweight and folds effortlessly, so it is ideal for car travel. A must-have item at home and on the road
UPDATE: We're blowing up on social media and we're currently running low on inventory, please order asap!!