PAINT FASTER AND BETTER WITHOUT EVER MAKING A MESS!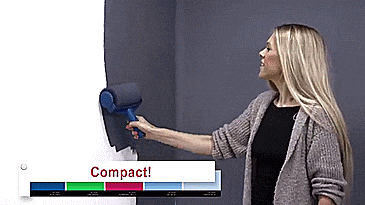 Painting can take forever and easy to make a mess. It's crucial to use the proper tool that will let you paint faster and better without hassles.
This paint roller set is perfect for painting all surfaces! It's compatible with all types of paint and completely drip-free!
Extremely easy to use, allowing you to paint the entire room within few minutes without any drop sheet and tape masking.

FEATURES:
- PATENT PENDING: Compatible with any types of paints. Just simply pick your favorite color paint and fill up the paint roller. We recommend filling less paint for lighter usage!
- BETTER REACH: It will allow you to extend the paint roller for painting hard places to reach. Just simply attach the included bar extension, and you are ready to go!
- SAVES MONEY: No need to hire professionals to paint. Now you can paint just like professionals without having to break the bank.
- SAVE TIME: It's completely splash-proof and drip-free, allowing you to paint without wasting your time on placing drop sheet and tape masking.
- REUSABLE: It's completely refillable & reusable. Just simply rinse them with water, and once its dry it should be good to reuse.
Want to make your home more appealing? No worries! This ultimate paint roller set will be the right fit! This set features everything you need to make your kitchen or your room more refreshing. It also saves you tons of money by preventing you from wasting paints, and It doesn't need any of drop sheets nor tape masking. Also, It saves you tons of time because it doesn't require any prep!
Simply pour the desired pain into the roller. Completely drip proof, and powerful yet saves money and time!
Included Package:
1 X Paint Bucket
1 X Resting Tray
1 X Paint Roller
1 X Wheel Brush
1 X Corner Painter
3 X Extended Rods